HySMART 2021 – 2022
Increasing the Cost-Competitiveness of Fuel Cell Technology for the Automotive Industry
The feasibility study HySMART, funded by the Automotive Transformation Fund (ATF) and facilitated by the Advanced Propulsion Centre (APC), is driven by an urgent need for hydrogen fuel cell system producers and associated supply chains to drive down costs and offer fuel cell vehicles on a cost competitive basis.
The study will explore the feasibility of implementing advanced robotics processes to enable scale up in the manufacture of hydrogen fuel cell stack products. HySMART is a collaborative project between Bramble Energy, Loop Technology, Microcab, UCL, and HSSMI.
Funding: Automotive Transformation Fund (APC)
UKMSN 2021 – 2022
UK Manufacturing Symbiosis Network Plus
An EPSRC-funded NetworkPlus created to stimulate the growth of manufacturing research and communities concerned with developing manufacturing synergies for the circular economy.
With the rapidly developing market for hydrogen fuel cell electric vehicles comes the opportunity to embed Circular Economy practices in the design, manufacture, use and end-of-life treatment of these vehicles, reducing demand for valuable finite resources. In a collaboration between Coventry University, Aston University, Microcab Industries and Oakdene Hollins, this project will apply an industrial symbiosis model to the critical supply chain of hydrogen fuel cells, seeking to develop a restorative business model that utilise new data-driven approaches to monitor the health and usage of fuel cells. The use of real-time knowledge of the health of critical components and systems will make such a business model, and others that involve the reuse of cells in other sectors, more efficient and sustainable.
ECOBULK 2017 – 2021
Circular Economy project researching harvesting of municipal waste streams to form composites for use in architecture, furniture and automotive interiors. With EU H2020 funding of 13M Euros, 27 partners and 11 countries. Project now extended to end of 2021 due to Covid.
See ECOBULK
SWARM 2015-2018
See SWARM-project.eu
Bringing together three fuel cell vehicle manufacturers and demonstrating their products in three regions of Europe; UK, North Germany and Brussels.  This project successfully completed in October 2018 with the Microcab fleet having covered about 45,000km and the launch of the new Vianova. This latest model from Microcab features technical and design development work from SWARM itself, as well as a range of modifications brought about through parallel grant funded, projects (InnovateUK, APC, NVN) and our commercial work with Mahle.
European funding: FCH-JU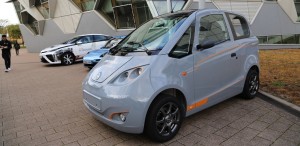 Microcab Vianova