ECOBULK  2017 – 2021
Circular Economy project researching harvesting of municipal waste streams to form composites for use in architecture, furniture and automotive interiors. With EU H2020 funding of 13M Euros, 27 partners and 11 countries. See ECOBULK
SWARM
See SWARM-project.eu Bringing together 3 fuel cell vehicle manufacturers and demonstrating their products in 3 regions of Europe; UK, North Germany and Brussels.  This project successfully completed in October 2018 with the Microcab fleet having covered about 20,000km and the launch of the new Vianova. This latest model from Microcab features technical and design development work from SWARM itself, as well as a range of modifications brought about through parallel grant funded, projects (InnovateUK, APC, NVN) and our commercial work with Mahle.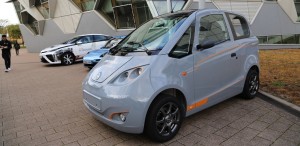 Microcab Vianova 2018
---
NVN – TRACPAC  2018
Feasibility study into novel modular traction battery pack design
DISCUS 2016
Driveline Integration and Supply Chain Upscaling and Streamlining
This project enabled the integration of a new AC motor and gearbox into the Microcab platform as well as mapping the UK supply chain capability in the low carbon drivetrain sector. Partners Aspire Engineering, HSSMI, Aston University and Microcab. 9 month project with funding from APC/NVN
Smart Electric Drivetrain 2016
Integration of the Lighfoot eco driving software system into the Microcab H2EV platform
CABLED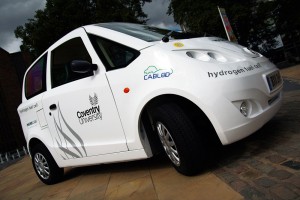 23 June 2009 : University of Birmingham event to herald the Technology Strategy Board's announcement of the consortium winners of its Ultra Low Carbon Vehicle Demonstrator competition. The CABLED project will showcase electric cars across Birmingham & Coventry in the West Midlands. The Microcab was the only hydrogen fuel cell vehicle in the trials.
---
Niche Vehicle Network – Mark 2 R&D Project 2009-2010
The objective of this project was to undertake a systematic and focused engineering programme to develop a base vehicle design. Project partners included Delta Motorsport, RDM Automotive, Lotus Lightweight Structures, Penso Consulting, Advanced Composites Group and EPL Composite Solutions. The timing was crucial to Microcab's ability to supply viable vehicles to low carbon vehicle demonstrator fleets in a rapidly developing market. The main innovative aspect of this project was the development of a lightweight, crashworthy chassis and a composite upper body structure, combined with a pure EV drive train.
---
The University of Birmingham Project
Mark this date down in your diaries: 17 April 2008. England's first ever hydrogen pump was successfully launched.
The event was officially opened by University of Birmingham Vice Chancellor, Professor Michael Sterling, and was attended by 100+ visitors.
The BBC spent the whole day covering the event, along with Central and Channel 4 news, and millions watched the opening live on lunchtime TV.
Microcab Fleet Launched

The University's fleet of five hydrogen vehicles made their first group appearance on campus on Tuesday 8 July 2008. They were also featured on Sky News in two parts.