Vianova 2020
The Vianova has been developed as a left hand drive version of our base H2EV platform, and features an all new powertrain (motors, battery system and fuel cell) – all developed within SWARM with the Coventry University team
In addition a smart new exterior, our contract with Mahle Powertrain gave us the opportunity to develop a new interior design. Further developments within the EU funded ECOBULK project allowed us to explore the possibilities of Circular design processes, forming parts from composite materials which can be re-manufactured at end of life.
Coventry Hydrogen Event, Oct. 2018
130 delegates arrive at Coventry University Engineering Dept. for a celebration of the FCH-JU funded EU SWARM project which closes this year. 10 hydrogen vehicles on show including the new Microcab Vianova, in left hand drive, seen here in its new grey livery.
Microcab operating in Brussels, May 2018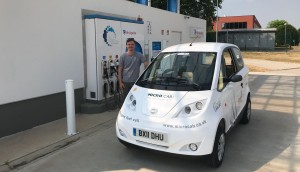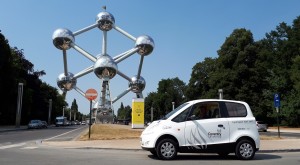 Microcab H2EV with Generation 3 powertrain now operating in Brussels with our partners in the SWARM project at University Libre Brussels. Seen here at the Atomium, at the Royal Palace and filling up at the Air Liquide hydrogen station at Zavantem, out by the airport.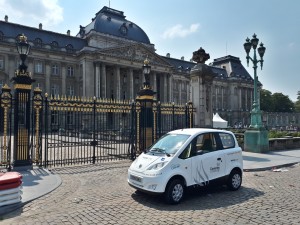 [/vr_js