Latest News
October 2013
EU SWARM project reaches one year milestone




The first anniversary of the SWARM project brought the project partners together from across Europe for the AGM in Birmingham in late October

Photos: Two Microcabs on show at the SWARM AGM. Note, fuel cell van variant in foreground.
Project partners line up for photo call
---
June 2013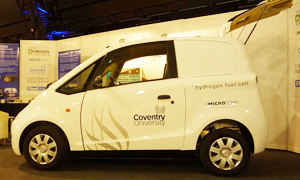 Microcab launches its fuel cell powered light freight van
Microcab unveiled its light van variant at Company Car In Action, Millbrook, June 2013. The vehicle uses the same fuel cell platform as the 4-seat car and meets the specifications set by Royal Mail for light duty vans, with 250kg payload. The vehicle is hydrogen powered and capable of up to 180 miles on one fill. Filling with hydrogen takes about 3 minutes. Microcab CEO John Jostins said, "Urban air quality needs to improve and large numbers of diesel delivery vans operate in our city centres leading to increasing levels of particulates. The Microcab light van is designed to deliver zero emissions in town where human health is at risk from poor air quality."
---
April 2013
Memorandum of Understanding signed between Hydrogen South Africa, Microcab and Coventry University. Press release to follow shortly.
---
February 2013
Princess Anne opens Engineering and Computing building at Coventry University.
---
Microcab at the House of Lords
November 2012
---
---
SWARM Project
A four year project that commenced in October 2012. The first major event will be the rollout of the Microcab with a Horizon fuel cell. The first offcial event will be Millbrook 11-12 June 2013.
---
---
First sightings of the all new Microcab H2EV
The new Microcab H2EV has now been released, featuring new chassis and powertrain as well as new exterior and interior styling.

Click the images to enlarge
---
New Hydrogen Filling Station opens in Swindon
Microcab in attendance at opening of UK's first commercial hydrogen filling station at Honda, Swindon, 20 September 2011